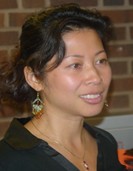 In e-mail contact with author Loung Ung yesterday (pictured), who tells me she's still recovering from a skiing accident she suffered eight months ago and which has hindered her movements ever since. She is working with therapists and trainers five days a week to get back to full fitness but its a long haul. She's one helluva tough cookie, so I know she'll get there in the end. Her second novel, Lucky Child, has just come out in paperback and she's sending me a copy. If you get the chance to read this book, don't miss the opportunity, it's excellent.

Hard luck on Arsenal, who lost to Barcelona in the European Cup final the other night (though great news that Thiery Henry has signed on for another 4 years). Fingers crossed that Leeds United have more success against Watford in the Play-off final this coming Sunday. I'm off to watch the game at my brother Tim's house so we can shout & scream at the tv to our heart's content. We're both big Leeds fans, so only 1 result will satisfy us.

I can reveal my 'insider' on the Casualty gig in Cambodia is none other than actress Cathy Shipton, aka Duffy, one of the drama's most popular characters. They fly out soon to begin filming - I hope it goes swimmingly for them. Word reached me recently that the popular BBC tv serial, Casualty, will be filmed over in Cambodia in the next few weeks and will be screened on UK tv in September. The storyline will involve former hospital staff now working in a clinic in Cambodia. More as I get it. Casualty is an extremely popular programme in the UK and I think its great news that the BBC have taken the gamble to film an episode in Cambodia.

By the way, welcome through my open door where I'll post random thoughts, ruminations, events, comings and goings and any other items that spring to mind. It's a good excuse to exercise my typing fingers in preparation for when I finally get around to penning the outstanding travelogue tales from my trip to Cambodia in January, or setting my scanner alight with the hundreds of photos I need to post to my website from my last four or five visits to that special country. I will get around to it, honest. I began my open door on my own website a few weeks ago but thought I'd post it here instead.