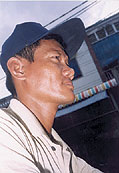 If you haven't heard of Sereyvuth Kem, also known to his friends as Srash, then I recommend you get hold of a copy of the 2002 dvd City of Ghosts starring Matt Dillon (who was making his directorial debut) and James Caan. In my opinion, he's the highlight of the film - besides the atmospheric locations around Cambodia - playing a cyclo-driver, who befriends Dillon's lead character and his portrayal of the amiable, good-hearted and likeable Sok is precisely the behaviour I've seen mirrored amongst a handful of moto-drivers myself. I'm proud to say that some of those motodops have become my closest friends, so Srash's true-life portrayal is one I can easily relate to.

Since Ghosts, Srash has appeared in the 2005 movie Holly, as a vendor and motor mechanic in a ground-breaking film focusing on child trafficking and has just posted his own website at mrsoksrash.tripod.com, where he is also happy to act as a tour guide - he tells me he now has his own car - alongside his other jobs of policeman and farmer. Speaking about his role in Ghosts, Srash told me, "For me I just try to be myself for my part in the film and when I see myself in the film, my character, I just want to laugh...because it is the same as my real job and my background. Matt put my real story, my real life into the film."

Matt Dillon originally spotted Srash in front of the Capitol Guest House after the motodop offered him a lift. Dillon declined, but he liked his face, took his photograph and asked him to audition. The Hollywood star set him up with lessons in English, acting and driving. "He's a natural," Dillon gushed. "He's such a great guy, and he's done such a great job." Now 40 years old, Srash grew up in an orphanage in Kompong Thom province. He joined the army and served for three years, worked under UNTAC as an electoral official before moving to Phnom Penh in the hope of finding a better living. In the city, he used his English skills in his job driving tourists around the capital on his moto, combining it with a second job as an Interior Ministry policeman. The lure of Hollywood was but a brief respite from the more mundane and Srash used his fee from his film debut to renovate his family farm in Takeo province.