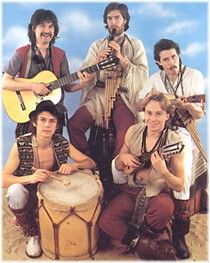 Incantation in 1983: Back LtoR: Forbes Henderson, Mike Taylor, Chris Swithinbank. Front LtoR: Tony Hinnigan, Simon Rogers.
I watched a video of
Incantation
this afternoon and reminded myself how timeless, evocative and beautiful their panpipe and South American-influenced music is. If you don't know who I'm talking about, go
here
to get the in-depth story of the group who shot to fame in 1982 when their instrumental single, Cacharpaya, did so well in the UK and internationally. The brains behind Incantation were Tony Hinnigan and Mike Taylor and they are simply masters of their craft. These days Hinnigan is constantly in work on one Hollywood film or another but their big break came when they did the instrumental work on the soundtrack for the film, The Mission, in 1986. How it never won the oscar for its composer, Ennio Morricone, is a mystery we'll never solve. As for Incantation, they began as a five-man group and the video I watched was of their own travels to Peru and Bolivia to find out more about the traditional instruments they became experts on. The hour-long video from 1984, shows them meeting the instrument makers and players, includes twelve of their earliest tracks like Cacharpaya, Dolencias, Atahuallpa and Cutimuy and is a great document of the band's early days. In total the group released nine albums and a lot of compilations before they finally stopped touring in 1997. However, their music remains as fresh today as it was back in the 80s and 90s and they can take a lot of credit for bringing the traditional sounds of South America to the public's attention.