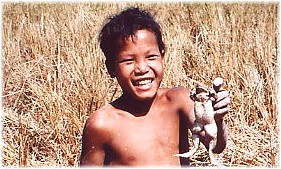 Frog-hunting in Pursat
I've just completed penning my 2007 Cambodia Tales, so as I'm in the groove, I've decided to start, though long-overdue, on my 2006 travelogues. Here's the first, beginning with my arrival and a first visit to Pursat.
Arrival & Pursat
I left a snowstorm in the UK and arrived in high temperatures in Cambodia - does it get any better than this? The 6,000 miles and eleven hours of flight-time from Heathrow to Bangkok were uneventful, as was the one hour and fifteen minutes onward flight to Phnom Penh. The only excitement was the mad dash through transit to catch my connecting flight after a late arrival of an hour. I touched down at Pochentong at 9.10am, but my rucksack didn't! A mix-up at Bangkok deprived me, and a dozen other passengers, of our bags, so I filled in the copious paperwork to await its arrival. Now travelling lighter than usual, I collared a motodop to take me into town for $2, with a short stop at my friends' house in Tuol Kauk, and the usual glorious welcome by the two sisters who manage the Dara Reang Sey hotel, a couple of blocks from the riverfront, and around the corner from the old market, Psah Chas. Fed, watered and armed with a mobile phone, I got a motodop pal of mine, Vannak, to take me out to Kien Svay at 1pm to visit Vansy and her family. Mum and dad were home and pleased to see me, but Vansy and her sister Matey were in Phnom Penh and made a dash back home in time to get my armful of presents - clothes, jewellery and magazines donated by my step-daughter - and a quick hello before Vannak whisked me back to town at 4pm. A quick shower before Phalla and Sothea arrived at 5.30pm, closely followed by Sam and Bolin, and we all made our way to the Sweet Dreams restaurant near the Independence Monument, to celebrate my arrival with a boy's night out. The music was loud, beer girls aplenty and raucous stories were the order of the day as everyone, apart from me - I rarely drink alcohol - became quite merry. Sam and Phalla are great pals of mine and both have new jobs, Sam with a tour company and Phalla with an NGO, Peace Handicap. I was back at the hotel a little after 9pm to find Ara, Neang and Rina waiting to welcome me - they'd heard I'd arrived and drove from Tuol Kauk to invite me to a party at the end of my trip. And to send me off to sleep happy, my rucksack had arrived and been collected by one of the hotel drivers.
Next morning was a lazy one, following a fitful night's sleep. After breakfast, I walked to the riverfront, met Vannak in an internet cafe and played foot shuttlecock with Sareim and Janna, my two room-maids who I'd met a year before. I had a midday nap and then at 2pm, Ara arrived to take me back out to Kien Svay to see Vansy. Ara's boyfriend, Lee drove us in his car and Lina came along too - it was great to see Ara and Lina again, we've been friends for many years and I was keen for them to meet Vansy. Now 13 years old, Vansy's English is coming on really well and she took to Ara and Lina immediately. She showed us around her house and her animals (1 cow, 15 chickens, dogs and cats), who all live in a house of seven children and parents, with Ara translating when her English ran out. We visited a neighbour who wanted to practise her English and raided her fruit trees before leaving at 4.30pm, promising to return to see Vansy and her family on each of my future visits. We had to get Lina back in time for an English exam, while Ara, Lee and myself had a coffee in a cafe next to the central market. Back at the Dara, the hotel was chock-a-block so the sisters asked me to move into their own house just across the street, and into a large guest-bedroom, which was no problem for me. In the hotel restaurant, I met Soumya James, born in India but now studying for her PhD in the States and in Cambodia as part of her thesis study on Hindu influence on early Khmer temples. We took a moto for a bite to eat at one of my favourite places, the Rising Sun, a block from the river, and it also gave me the opportunity to see Samnang, the pub's bubbly barmaid.
In the morning, I moved back into a room in the hotel and after breakfast I went for a walk along the riverfront and used one of the internet cafe's there. Vannak took me to a few shops, including the central market where I bought my Ho Wah Genting coach ticket, $3, for my trip to Pursat in the morning. Back at the riverside I headed for the California 2 hotel for a chat about temples with Jim, the hotel owner, who likes to get on his bike in his spare time to 'discover' much like myself. At the Dara, Ara popped by for some presents I'd brought from home, as I was eating a late lunch with Reangsey at 3pm. I took a late afternoon nap before Sam came to collect me at 6pm for a small party at his brother Tima's home, near the Samaki market. I went to Tima and Theary's wedding in January 2003, so it was great to see them again, their one year old daughter Nakry, Theary's parents, as well as Sam and Phalla; and the food was excellent. I was in bed by 10pm, ready for my early start in the morning. Up at 5.30am, I was on the bus at 7am as we left the central market with just three foreigners on a full bus, for the three hour trip along Highway 5. At 10am we arrived on the outskirts of Pursat and I walked to the New Than Sour hotel - $10 for a clean air-con double with hot water. My first task was to find a motodop who spoke English and eventually settled on Kousal, who knew a few words but essentially, merely repeated what I said and then smiled - but there was little alternative choice. Our first visit was to the town's tourism office and then along Highway 5 to the village of Bakan and its main pagoda. In the grounds, a ruined laterite temple - Prasat Bakan - was on top of a small rise with some painted antefix's and a broken wall, while inside the pagoda, the wall paintings, a colonette, reclining buddhas and an array of orchestra instruments caught my eye.
We left Prasat Bakan at 1pm, stopping to talk to a group of small children who had been frog-hunting, successfully, in the nearby rice fields. The surrounding countryside was beautiful as we sought Wat Rumlich, the supposed site of a Khmer Rouge victims memorial, which we found out had been dismantled a few years previously. Kousal fixed a back-tyre puncture at the side of the railway line before we headed back to Bakan and the burial site of a national Khmer hero, Oknha Khleang Moeang. Gaudily-painted statues, a burial mound and a resident police guard were all we found to mark the memory of this much venerated character. We stopped at the deserted train station - 0ne train passes through every day - and then visited the Province's director of fine arts and culture at his palatial office to ask for the key to the museum in Pursat, only to be told he didn't know where it was! Outside the padlocked museum, located next to my hotel, sat two lintels and an inscribed stele stone, but the contents of the museum remained a mystery. Kousal and I visited one of the many marble shops, an island in the center of the Pursat river and then went on a ride along the riverbank for a few kilometres to Wat Soriya, with its large buddha, wooden ceiling and very old wall paintings. Crossing the river via a wooden bridge, at Wat Preah Sdei we encountered monkeys and lots of caged animals, next to the modern vihara. I was back in my hotel for 5pm and arranged for Kousal to return at 7am the next day. Communication with him was stilted, but at least he was very willing to learn more about his town and its surrounds, so I persevered. I had a chicken supper at the nearby Raksmei Angkor Phnom Pich restaurant for $1.5, but it was noisy, so I finished the day with a tikalok at a stall along the river - a full moon and four attractive girls serving the drinks were a bonus - but it was next to an electricity station and it gave me a headache, so I called it a night and was in bed by 9.30pm.
My sleep pattern was still all over the place, I hadn't slept well since I arrived, so I was still tired when Kousal arrived at 7am and we headed east along Highway 5, stopping an hour later at Krakor for some noodles and coffee. Our destination for today was the Vietnamese floating village of Kompong Luong - located on the southern edge of the Tonle Sap Lake - and the sign oppositie the food stall indicated the village was 5kms due north. We arrived at the boat dock at 8.30am and I paid $5 for an hour's ride, just the pilot and me, visible to all with my flourescent orange life-jacket. The floating village is a substantial community of up to 10,000 people and the number of water-borne homes and shops was larger than I'd ever seen before. I spotted a church, school, dentist, two gas stations and lots of floating stores. We squeezed between the houses and past other boats - I was splashed by one boat and got completely soaked - so I got to see everything at close quarters and elicited lots of waves and hello's from the children and adults alike. We also went out into the open expanse of the lake, which was quite choppy as the wind picked up. It was a very enjoyable hour and I rejoined Kousal onshore just before 10am. Returning towards Pursat along Highway 5, we took a left turn on the hunt for Phnom Baykhlor, encountering some more children hunting for frogs in a field before arriving at the 100 steps leading up the hill to the pagoda, Wat Damrei. It was a tiny vihara with very old lion statues and seima stones and a group of friendly monks, but no ancient temple amongst the trees, which I'd hoped for. I had lunch with Kousal at the Phnom Pich restaurant back in Pursat at 12.30pm and took a shine to my smiling waitress, Srey Mom. I also purchased my coach ticket for Battambang the next day, with Capitol Tours.
Straight after lunch, we took another ride along the river, past the large Cham community, stopping at Wat Po Sovan Reangsey with its old wall paintings and then at Wat Kompong Krasang, at the end of a large suspension bridge spanning the river. We chatted to a couple of friendly monks, Vuth and Chon, who spoke good English and after I made them laugh by riding a rickety bicycle, they proudly showed me their wooden pagoda with its peeling wall paintings. Through the village of Kandieng, we called in at the Kumar Ney Kdey Sangkheum Center to watch the varied activities on offer to support youths from problem families in the area. With Japanese funding, teacher Sok Sambath showed us classes where the shy youngsters were making kramas, sarongs, bags and wooden furniture. The ride along both sides of the river was very pleasant, the people extremely friendly and its a definite must-do if you come to Pursat. I was back at the hotel by 5pm, thanked Kousal for his help and returned to the Phnom Pich for a barely-edible supper of fried chicken. Under a full moon I stopped for another tikalok fruit-shake but was back at the hotel by 8pm to watch football on the tv. I was nearly at the end of the Pursat leg of my trip - I found the town less than fascinating and when i return, I will use it as a launching pad for visits deeper into the countryside, and I may even be lucky enough to find the key to the museum! Link: Cambodia Tales.