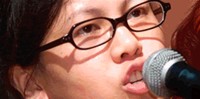 If you've not yet encountered the work of Cambodian Muslim American artist Anida Yoeu Ali/Esguerra, then you can catch her latest performance, Living Memory/Living Absence, at the National Asian American Theater Festival in New York this weekend. Anida, who recently changed her last name to Ali from Esguerra to honor the recent passing of my grandmother, uses a multi-discipline approach to creating art that mixes the visual, spoken and written into performed explorations of hybrid identities. A believer in the power of collective creations, she has founded Mango Tribe, Asian American Artists Collective-Chicago, the APIA Spoken Word & Poetry Summit, I Was Born With Two Tongues and the MONSOON fine arts journal. She tours extensively, calls Chicago her home for now and made her first visit back to Camboda and her Battambang home in 2004. In her latest work being performed this weekend, she will deliver poetry with movement inspired by Butoh set against a video backdrop of the sites and sounds of her memories of Cambodia. Anida's performance traces her poetic fears of returning to her birth country after 25 years of absence. The joy she feels immersed in ancient Khmer traditions clashes with the irreversible legacy of a genocide that lingers in the streets.

She says of her work; "While my performance experiences have brought me into a world rooted in writing and storytelling, my recent works use an interdisciplinary approach to creating art which mixes the visual, spoken and written into performed explorations of my hybrid identity. I am currently committed to exploring various artistic disciplines that will better inform my work as a multi-disciplinary artist who doesn't easily fit into traditional boxes and as a writer who actively seeks interesting ways of storytelling." Visit her
website
for more info about this hard-working and barrier-pushing artist.