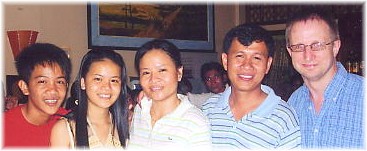 LtoR: Lee, Kim, Seng Hour, Davy and the author, Siem Reap, January 2007.
Here's part 1 of the final travelogue from my Cambodia Tales from earlier this year. Part 2 will follow tomorrow.
Notes from Siem Reap : Part 1
Leaving Battambang was a wrench as it's a part of Cambodia that I always enjoy but my next destination, Siem Reap, is the launching pad for lots of my past adventures and this year was no different. The Angkor Express boat left the Battambang dock at 7.15am, at the same time as two tour company boats and for the next four hours the boat pilots played a game of overtaking along the fairly narrow river channels leading to the Tonle Sap Lake. It looked to me as if the number of homes along the riverbank had increased in the last year as we sped along, leaving a heavy swell in our wake, that didn't seem to dampen the enthusiastic waves and shouts from the shoreline. At 11am, we stopped for a bite to eat at a drink-shop in the substantial village of Bat Prei that was a part shore-based, part floating village. We took on some additional passengers including a woman with a high-pitched voice that pierced my eardrums, as she proceeded to talk loudly and breast-feed her baby at the same time. By 2pm, we took a twenty-minute rest-stop at Prek Toal village – better known for its bird-watching possibilities – and then darted across the open expanse of the lake to arrive at the Chong Khneas boat dock at 3.45pm, and the usual scrum of motodops desperately clawing at you and your bags.

Amidst the mele, I spotted Rieng and his moto and his ever-present wide grin. His big hug said it all – it was great to be back in Siem Reap with my best friend and top guide. I'd forewarned him I was on my way, and his three hour wait hadn't suppressed his usual enthusiasm, as we caught up with each other on the ride into town and straight to my home-from-home, the Shadow of Angkor guesthouse. Expecting another big welcome, it didn't happen as the guesthouse owners, Seng Hour and Davy and their daughter Kim were in Phnom Penh, but it was good to be in familiar surroundings and I had a fruit-shake with Rieng and his wife Sovann, who arrived to join us, in the guesthouse's excellent restaurant. After a shower, I walked along the busy pub street, flush with tourists of every nationality, and headed for a fish and chip supper at Molly Malone's. I returned early to the guesthouse to catch up with Kim and her parents, and that postponed welcome, as well as meeting Juanita and Matthew, who I knew from email correspondence before I left home. I was all talked-out by 12.30am and retired to my comfortable room and slept soundly until 8am the next morning.

For my first full day in Siem Reap, I was on a mission. Rieng had told me a friend of mine who I'd not seen for six years was back living in her village inside the Angkor complex, so that's where we were headed at 10am, after breakfast with Juanita and Kim. It was a very hot day already as I paid $20 for a 1-day temple pass and took the road to the temple of Banteay Kdei, entering through the east gate, opposite the Srah Srang lake. And there she was, at her stall selling souvenirs and beaming that huge grin as if she'd never been away. I first met Socheata in 1999, as she was the elder sister of Noung, another souvenir-seller I had met at Angkor Wat a year earlier. But Socheata had disappeared overnight six years ago when I was told she got married and moved to live in Japan – I thought I would never see her again – until today. Now 28, she returned five months ago after her husband had died prematurely. I was pleased to hear that their marriage had been a happy one and they'd spent a lot of their time together travelling the world, including a visit to Europe.

It was an emotional reunion, both for Socheata and myself, as well as Rieng who knew her well, and we were also joined by her brother Plon and her mother, as we chatted as old friends do, for a couple of hours. With a promise to meet at Angkor Wat a little later, Rieng and myself headed off, ignoring the no-entry signs to pay a visit the secluded temple of Ta Nei, one of my favourite minor temples, where I can almost guarantee to be alone amongst the ruins and the sounds of the surrounding forest. We had lunch with another friend, Shanti, at her food stall (no.9) at the west gate of Ta Prohm before rushing over to Angkor Wat and entering via the quieter eastern entrance and walking around the perimeter to the cluster of souvenir stalls situated alongside the pagoda on the northern side of the temple. There I spent the next three hours talking non-stop to Socheata, her sister Noung, her six month old baby and her husband, Mean Somnang and her best friend Now. The souvenir sellers are a close-knit bunch of people, many live in the same village next to Srah Srang and lots of them recognised me from many previous visits. I didn't even manage to set foot inside Angkor Wat itself.

I returned to the Shadow and had a drink with Juanita and Matthew before a 7.30pm appointment with Dougald O'Reilly for dinner at the Soup Dragon restaurant. Dougald is the Director of the NGO HeritageWatch, which is busting a gut to stop the illegal trade in Cambodia's cultural heritage and to protect and preserve it by way of educating the local populace and raising awareness by various initiatives including their new magazine, Touchstone, and Dougald is the brains behind it all. He was great company and the Vietnamese food we tucked into was excellent. Back at the Shadow I caught up with Seng Hour and her daughter, as we talked in detail about Kim's impending departure in just three day's time, to spend the next four years at university in Sydney, Australia. The following day, Heng drove Rieng and myself to the floating village of Kompong Khleang – which you can read about in a separate travelogue. It's one of a handful of villages fairly easily accessible from Siem Reap and is a worthwhile alternative for anyone who's keen on a break from temple visiting.

The morning of day three in Siem Reap was to be spent visiting school, more precisely schools receiving support from a UK charity, Schools for Children of Cambodia, who provide free schooling for kids aged 4-12 in and around Siem Reap. Rachel Palmer, SCC's in-country organiser and her right-hand man Jay, arrived at the Shadow just as I finished breakfast at 8am. Accompanied by Rieng and Heng, we drove out to Khnar primary school, just three kilometres outside of town in the direction of Roluos and one of the six schools receiving SCC's support. Five new classrooms costing $6K per room and had just been built thanks to sponsors like Andy Hill and will increase the school's capacity to teach up to 800 children. Also onsite were brand new water filters that provide clean water for the school and I also spotted two sandstone pedestals under a tree, next to the garden which the kids were watering and weeding. At 10am we were back in town and heading for Wat Athvea, a laterite temple next to a pagoda, a couple of kilometres down the road leading to the Tonle Sap lake. Next to the ruined west gate of the ancient prasat is another SCC school, Krosang Roleng, with space for 230 children and class sizes of up to fifty per sitting. It was another well-presented primary school and a grateful head teacher, who praised the charity for their efforts at his school. Our final visit was to Sway Dongkum school, where volunteers Pete and Kat were teaching some of the school's 500 children English for an hour from 11am, as part of SCC's volunteer program. I thanked Rachel and Jay for showing us the work of SCC who are doing a fabulous job in providing education for free for so many children.

Back at the Shadow, I had lunch with the owner Davy and helped Kim with her leaving speech, which she would deliver at her 'going-away' party later that same night. In the meantime, Rieng collected me at 2.30pm for a visit to one of my favourite places to relax, the Angkor Conservation Office, where most of Angkor's free-standing statuary is held for safe-keeping, some in the Conservation garden and the superior quality pieces, under lock and key in two large storage buildings. We chatted to Kleng Reach, who'd I'd met on previous visits and for a small tip, he took us into one of the large rooms where over 200 original sandstone heads of gods and demons from the Angkor Thom and Preah Khan gateways were arranged in rows on the floor. Also in the room are inscription stele stones, pedestals, linga and lintels of outstanding quality and undoubtedly of museum standard, whilst outside the door, line-up along a wall, is the bounty retrieved from the home of the former Khmer Rouge leader Ta Mok including apsaras, nagas, lintels and lions, especially a stunning example from Wat Lovea. Another two-storey storage room nearby was off limits according to Reach and we had to be content with peering through the broken glass window at the sculptures earmarked for the new Siem Reap museum, when it opens in the middle of the year. On our way back we popped into the Jasmin Lodge guesthouse to say hello to the owner Khun, a former guiding colleague of Rieng's and then it was back to the Shadow and Kim's farewell party, organised by her parents. It began at 6.30pm and turned into a great send-off for the 17-year old, who in turn was excited and emotional by the turn-out as up to eighty of her friends and family ate and drank their fill and danced through til 12.30am. And the speech – there wasn't a dry eye in the house.