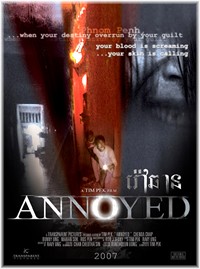 Horror and supernatural movies are extremely popular in Cambodia. With that in mind, when Khmer filmmaker Tim Pek was shooting his soon-to-be-released film The Red Sense in Cambodia last year, he also took time out to shoot a second film, Annoyed (aka Rarv Charn). The film's website together with a trailer is now available here. This is what Pek had to say about the film in an interview in December:

Q. I see you have also recently shot a film called Annoyed, tell me more. A. You are quick! I don't know how you heard about this project, but its true. To be frank I wasn't planning to shoot this film at all, a friend of mine Ravy from SSB Production, convinced me to collaborate with him. After completing a documentary project on martial arts in Phnom Penh, I had 4 days left for Annoyed. One evening we did a brainstorm, next day script is done, the day after casts and crews, half of them had to travel all the way from Battambang to participate in the film. I was overwhelmed with the passion and motivation they have, again most of them have no acting background just like in The Red Sense. Its my first attempt at a Cambodian ghost film, locations were mostly in Phnom Penh and outskirts. The film is about a young mute and innocent girl who is haunted by a female ghost seeking to restore her justice. The film will be in Khmer with English subtitles and 30 minutes in length. By the way, the lead actor and actress are Ung Bunny and Chap Chenda, watch out for them.
You can read the whole interview with director Tim Pek
here
. The Red Sense will also be out soon, as will a documentary on Bokator, the Cambodian martial art. All three films are from the Transparent Pictures film studios in Australia.