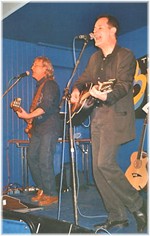 Roy was in touch last week. Yes, I couldn't believe it either. I think he hibernates for eleven months each year. The Roy in question is Roy Hill, the ultra-talented singer-songwriter who made a massive impression on me, musically, back in 1978. Then, for me, he completely disappeared off the radar, until 26 years later. In the intervening years, whilst I was busy listening to Steel Pulse, Ennio Morricone, Billy Bragg and so on, Roy had licked his wounds after a bloody nose from his unfulfilled solo career to rise again in the guise of Cry No More, who for a decade wowed audiences in stockbroker-belt SE England, and beyond. My re-introduction to seeing Roy in the flesh again, accompanied by his straightfaced sidekick Chas Cronk, in the form of Cry No More was a revelation. Roy has matured his boyish charm and comic monologues into the funniest music set I've ever seen. He is simply brilliant.
Anyway, back to last week's correspondence. I'll tell you what Roy's plans are as hopefully that will be an additional prod to make him complete the mammoth task he's set himself. He's currently putting all six Cry No More albums onto cd's with his own inspired artwork, as well as compiling a dvd to be called The Cry No More Story, which will include clips from old vcr tapes, videos from three recent compositions and narration from Roy himself. If that's not enough to whet your tastebuds, he's also clicking into gear with his own stuff too. He's nearly completed the first two releases: Hello Sailor – very early tracks recorded before he signed to Arista in 1977 – and Fun With Dave – songs recorded with Dave Richards in Switzerland during the early '80s. The target he's set himself is ten releases in all, fifteen if he includes "the real rubbish!"
If all that comes to fruition, I beseech everyone to buy the whole set. You will love it, I promise. My decision to relocate to Cambodia has some drawbacks to it, one of them is missing the annual Cry No More Christmas extravaganza. This year's is on 28 December at the Turks Head in Twickenham. If you don't attend, I want to know why. At least I can say I'm 6,300 miles away on the other side of the world, what's your excuse?
Link: Roy Hill.