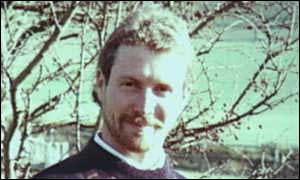 Major developments at last in the hunt for the men responsible for the kidnapping and killing of British de-miner Christopher Howes and his interpreter Houn Hourth in 1996. Three men were charged on Tuesday in the Phnom Penh Municipal Court with the illegal detention and premeditated killing of Christopher and his translator, and for Christopher's parents, Roy and Betty - who sadly died earlier this year after a short illness - its the first real development in their quest for the truth behind what really happened and for justice. Roy Howes, told the Western Daily Press that he was pleased by the arrests, not only for himself and the interpreter's family, but also for the people of Cambodia. "At last they are collecting some of these people [the Khmer Rouge]. They have been on the loose for eleven years now. Emotionally, it's never gone away for me, and for my wife before she died. As far as I'm concerned, I hope that the full force of the law comes down on the people responsible for Christopher's murder. If that means they are imprisoned for the rest of their lives, then so be it - irrespective of their ages and frailty." Abducted in the Khmer Rouge stronghold of Anlong Veng in March 1996 whilst working for the Mines Advisory Group, Christopher and his colleague were shot dead some days later on the command of the ruthless one-legged Khmer Rouge military commander Ta Mok.

The names of the killers have been known to the Cambodian authorities for many years and now, as the high-profile arrests of top Khmer Rouge leaders for the impending Khmer Rouge Tribunal gathers pace, three suspects have finally been taken into custody and are being detained at Prey Sar prison in Phnom Penh. Pre-trial detention can last up to six months and the maximum punishment for premeditated murder is 20 years in prison and for illegal confinement, 10 years. The three men are RCAF Brigadier-General Khem Nguon, 58 and Loch Mao, 56, a local government official in Anlong Veng district - who've been charged with illegal detention and premeditated killing - and Chep Cheat, 33, a villager from Anlong Veng, who is charged with premeditated killing. It's the first serious development in the case for years and though the wheels of justice here are slow moving, there's at last a chink of light at the end of this dark tunnel for the families of the deceased men.
In July 2006, I posted a blog article called Remembering Christopher Howes:
It's ten years since British de-miner Christopher Howes and his interpreter Houn Hourth were captured and executed by Khmer Rouge forces under the command of Ta Mok, the ruthless one-legged guerrilla commander who died yesterday. Christopher was a landmine specialist working for the Mines Advisory Group a few miles north of Siem Reap in the village of Preah Ko when he and his twenty-strong de-mining unit were abducted at gunpoint by Khmer Rouge cadre in March 1996. Told to return to his base for ransom money, Christopher selflessly refused so he could remain with his team and negotiate their safety. Instead the guerrillas released his team but kept the Bristol-born former Royal Engineer hostage for a few more days before he was executed. However, his fate remained a mystery for more than two years until evidence emerged in May 1998 that he was taken to Anlong Veng and shot twice on the orders of Ta Mok by men under his command.
Throughout those two years, numerous stories emerged to suggest Christopher was still alive. These included declarations from First Prime Minister Norodom Ranariddh that he'd escaped and was on his way to freedom, and others that photos proved he was alive and well or that the soldier-turned-deminer was being forced to teach the guerrillas how to make their own mines. He was reported to be suffering from malaria and chronic diarrhea and in November 1996 his employers, MAG, reportedly paid $120,000 to a man who claimed he could gain his release but then vanished with most of the money. Each story turned out to be a cruel fabrication until May 1998, when Scotland Yard detectives recovered ashes from the site where Christopher's body had been cremated. His was not the only death around that time - between the period 1994 to 1998 the Khmer Rouge abducted and killed at least ten foreign tourists.
Christopher had served with the Royal Engineers for seven years prior to his three year association with MAG, initially in northern Iraq and then in Cambodia for just five months before his abduction. An acknowledgement of his humanitarian work and bravery in negotiating the release of his men was honoured with the naming of a Phnom Penh street after him and the posthumous award of the Queen's Gallantry Medal in 2001. A memorial service was held in his home village of Backwell near Bristol in July 1998, once his parents had received confirmation of Christopher's death from Scotland Yard and Foreign Office officials. At the service, Rae McGrath, founder of MAG, said: "Having known Chris as a friend and as a colleague I cannot find it within me to mourn. I will celebrate a heroic friend, a deminer who put into practice his engineering skills to make this world a better place and who, at the cost of his life, showed his love to and loyalty for his fellow men."
For a detailed look at the background behind Christopher Howes' kidnap and killing, click
here
.