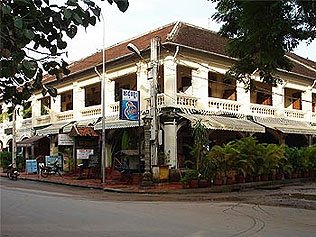 If you visit Siem Reap, you must take time out from your temple exploration to visit the Shadow of Angkor restaurant, just a block away from the popular old market and looking out over the Siem Reap river. I love the restaurant and of course, the adjoining guesthouse and always stay there when I'm in Siem Reap, and I'm really pleased that I am getting such positive feedback from other travellers, so its not just me who is singing their praises. Dave and Karen Ashmore from London were effervescent in their admiration of chef Teth's culinary prowess; "Its the best food we've tasted in six months of travelling - absolutely superb". Equally impressed were Bill and Sheila Duke from Victoria, British Columbia who said; "we won't eat anywhere else, we just can't stay away."

Chef Teth has five helpers to ensure the kitchen runs as smooth as clockwork, while restaurant manager Nareth is ably assisted out front by Sokchea and Jean. Teth's specialities include fish and chicken amok, fried beef in lemongrass and pan-fried Tonle Snapper fish dishes, though the menu has an extensive range of starters, Khmer specials, salads, pasta and pizza as well as western favourites. Prices range from $2-$5 - so its quality food at easily affordable prices. Located in a renovated French colonial building, the owners, Seng Hour and Davy are proud of their restaurant and the 15-room guesthouse and have a great team working alongside them including their son Lee, tuk-tuk drivers-cum- guesthouse assistants, Wa, Sophal and Theary. Together they make a great team and a great place to dine and stay.
Link: Shadow of Angkor.