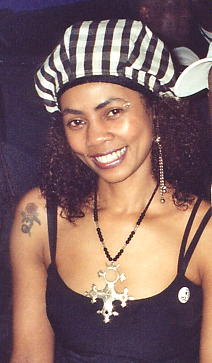 Last night was one of those occasions when Birmingham played host to some top class reggae singers but the lack of promotion and advertising meant that the crowd was much smaller than it should have been. Let's face it, when someone of the stature of Marcia Griffiths is on the bill, The Drum should've been packed to the rafters to celebrate alongwith this icon of the reggae world. It wasn't. Nevertheless, I enjoyed myself and Ms Griffiths, a sprightly 57 years old, gave a masterclass in how to entertain her adoring fans. As one of the famous I-Threes that accompanied Bob Marley on his barrier-breaking tours around the globe, and as one-half of the duo Bob and Marcia, she's seen it all and still packs a considerable punch. Backing her were the Ruff Cut Band from London, who'd provided the sound for the two previous acts, Prince Malachi and Sylvia Tella.

In true laid-back style, the evening's entertainment finally kicked-off at midnight with one of my own favourite singers, Yaz Alexander (pictured), pumping out three songs, This World, Forward and I. On stage for less than ten minutes, but with show-time at a premium because of the late start, it wasn't nearly long enough, though in typical Yaz style, she gave it everything. Next up was Tenor Star who also gave stage-time to the powerful and gifted Claire Angel before Sylvia Tella took to the stage, accompanied by Yaz as her backing vocalist. Sylvia sings lovers-rock style and is popular in the UK though she spends a lot of her time in Brazil these days. Included in her five-song performance were Plastic Smile, Special Way and Groove with the Times, which went down well with the audience. It was the first time I'd seen Sylvia live - she spent a couple of years as a backing vocalist with Steel Pulse at the end of the '90s - and she has a great voice and bubbly stage presence. All in all, a night packed with musical talent and hugely enjoyable, but the promoters really need to get their act together to pull in the punters.

You can find out more about Yaz here. In addition, MySpace is a goldmine of information on Yaz Alexander, Sylvia Tella and Claire Angel, and much more besides.