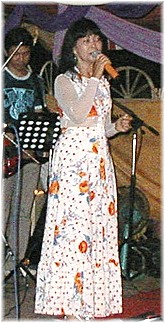 My blog post about Dy Saveth, dubbed Cambodia's Bridgette Bardot, which you can view here, has been followed up by our very own Phnom Penh based correspondent, Jinja, with this review of Dy Saveth's latest public performance. Now 62, Dy Saveth is still making films - she was better known as an actress during the golden age of Khmer film-making in the '60s and '70s - but is now making a splash as a singer, and a professor of fine arts at the Royal University of Fine Arts!

Gig review: Dy Saveth at Salt Lounge, Saturday the 18th November, 8pm:
I didn't see any flyers but got word via text message that a classic star was going to perform, so Saturday the place to be was Salt Lounge, Phnom Penh. A special tent and stage was set up outside main bar, with balloons, banners and a few tricked out motos for flair. By 8:30 pm the tent was pretty packed, fairly mixed between foreigners and locals. Many had never seen Dy Saveth, and were curious to get a look. First to appear was Leang Seckon, who in addition to being a painter has done some professional karaoke. He was joined soon after by Dy Saveth (to enthusiastic applause) who sang solo tunes (in Khmer and French) and some duets with Seckon. While at some concerts people wave lighters aloft, this show was characterized by people holding up their phone cameras to get a good shot. Its was very retro-Cambodia-kitsch, in the best sort of way. No set list alas, but there were many familar sounds. Most of the audience stuck around for a drag show that followed, and things wound down by about 11pm. The general consensus after the show was 'when's the next one'? I'll post news if and when I hear. [here's a photo of Dy Saveth performing at the Salt Louge, courtesy of Jinja].