Orientations is a glossy magazine aimed at collectors and connoisseurs of Asian art and the latest issue, Vol 37 # 8 Nov/Dec 2006, is a 'must have' for anyone interested in finding out more about the art of the Angkor civilization in Cambodia. It previews the forthcoming 'Angkor - Sacred Heritage of Cambodia' exhibition to be held in Germany and Switzerland (mid-December to April 2007) and contains no less than thirty pages and six articles on various aspects of the Khmer heritage. Its published in Hong Kong and is available on subscription here. In addition to the Angkor spread, the limelight is shared with articles extolling the virtues of the sacred Chola bronzes from Southern India which are on show at the Royal Academy of Arts in London until the end of February.

As for the Angkor articles, the co-curator of the Bonn exhibition, Helen Jessup discusses the early art of the ancient Khmers, accompanied by gorgeous photos by John Gollings, whilst Wibke Lobo highlights some of the key elements of the exhibition including the bronze Vishnu found at the West Mebon in Angkor. Over 100 of the finest pieces of Khmer art will travel from Cambodia to Germany for the show. Brilliant scholar Ang Choulean explores the traditions of the linga in Cambodia, while Hab Touch and Lucie Folan of the National Museum discuss Khmer art held overseas and recent instances where sculptures have been identified and reunited through international efforts. Far too much of the Khmer heritage is held abroad in museums or private collections and its high time these antiquities were returned to their rightful home. HeritageWatch director Dougald O'Reilly makes it quite clear that urgent efforts need to continue to stem the flow of artefacts leaving Cambodia and his organization are at the forefront of that battle to keep them in their homeland, as I've highlighted in previous postings on my blog.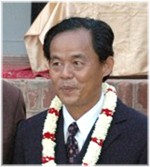 Perhaps the most interesting article in the Angkor section of the magazine is a second piece by Helen Jessup, where she introduces a few of the elder statesmen as well as some of their younger and dynamic students, who are among those making a real difference in various fields like archaeology and ceramics. Jessup provides an insight into the individuals and gleans from them, a view of the current challenges facing Cambodia's cultural identity. She interviews people of the stature of Vann Molyvann, Ang Choulean and statesman and archaeologist Son Soubert, alongwith architects Hok Sokol and Long Nary, and ceramics experts like Ea Darith, Pich Thyda and Chap Sopheara. Ly Daravuth of the Reyum Institute, and Hab Touch, deputy director of the National Museum are deservedly highlighted, as is the Museum's director Khun Samen (pictured), who has recently celebrated a decade in charge after taking over from Pich Keo. All in all, an excellent magazine and well worth getting hold of a copy.