Ciao,
fresh from my long weekend in Italy, its back to the daily grind. However, my very own Italian Job was a roaring success thanks to the generous hospitality of our hosts Andy and Paola and their adorable children, Giovanni and Ella. Padova was a very pleasant city, complemented by the gorgeous sunshine, with its medieval buildings, the lofty domes of the Basilica of St Anthony, its famous university and profusion of stand-up coffee shops, not least the Caffe Pedrocchi. Our stay in the 16th century Palazzo Papafava Dei Carraresi was especially memorable. We enjoyed an afternoon at a family getogether in the pre-Alps as well as a day meandering through the alleys and waterways of Venice, some thirty minutes by train from Padova. Crowds aren't really my cup of tea, so the Piazza San Marco and St Mark's Basilica, awash with travellers from all over the globe, were seen in a rush, though we did linger in the many rooms of the Doge's Palace and along the waterfront. All in all, a weekend to remember.


* * * * *

I've just heard that the premiere of the documentary film
New Year Baby
will take place at the International Documentary Festival in Amsterdam between 23 Nov-3 Dec. Its a film by Socheata Poeuv (pictured) and her search for the truth about how her family survived the Khmer Rouge genocide in Cambodia and why they kept family secrets locked away for 25 years. The film's extensive
website
is a goldmine of information about the production.
* * * * *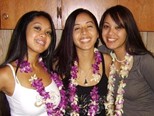 Making quite a splash amongst the music fraternity in Long Beach, California are a trio of young Khmericans who go by the name,
Universal Speakers
. The three girls, who call themselves Vice, Versa and Versatile, compose their own beats, write their own lyrics, record and produce themselves, mixing rap with hip-hop and reggae. Their debut album, No Hard Feelings, is currently on sale in their Long Beach backyard, and they're not the only all-girl group strutting their funk either. To find out more, and hear from Universal Speakers, go to their
myspace
website.