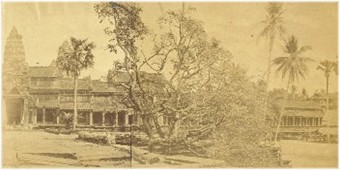 During an eight year period beginning in 1864, Scotsman John Thomson (1837-1921) created a remarkable body of photographs and literary descriptions of the scenes and people of the Far East, earning him recognition as the first of the great photo-journalists. Photographing the architecture, industry, landscape and, most importantly, the people of these areas allowed Thomson (pictured) to produce one of the most renowned photo-historical records in the history of documentary photography. And his photographs of Angkor

Wat and its neighbouring temples such as The Bayon were the first-ever to be seen when he published his ground-breaking 1867 book, Antiquities of Cambodia. His photographs were a revelation to a public eager to see and hear about the Far East and Thomson became a celebrity of the day.

It was in 1865 and inspired by Henri Mouhot's account of Angkor, that Thomson set out for Bangkok, where he obtained permission from King Mongkut of Siam to travel into the interior of Cambodia, at the time under Siamese control. Thomson departed on the dangerous trip overland on 27 January 1866 to Laos and Cambodia with student interpreter H. G. Kennedy of the British Embassy at Bangkok, during which time Kennedy saved Thomson's life when the latter contracted jungle fever. They spent two weeks in Angkor, extensively documenting the site and where he took the first photographs of the temples. After taking portraits of the King of Cambodia and the Royal Family in Phnom Penh he returned to Britain in June 1866 with his 60+ photographs of Angkor. He lectured widely and published his work, became quite a celebrity and was awared a fellowship of the Royal Geographical Society. In later life, his photographs of China, Cyprus and the streets of London would earn him much acclaim.
Photo above: John Thomson's part panoramic view of the western facade of Angkor Wat, captured on film for the 1st time in February 1866.