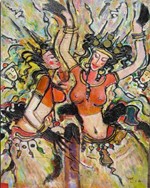 My thanks to Maria for directing me to an artist who has his art gallery just across the road from The National Museum in Phnom Penh and who has brought a brilliant splash of colour to Cambodia's gorgeous Apsaras. The Asasax Art gallery is already known to many in Phnom Penh but few outside the Cambodian capital. A former art student, Asasax has worked as a painter, decorator and sculptor and has hosted exhibitions of his work especially his Apsara paintings, in both the capital and Siem Reap, where he's now opened up a second gallery. Examples of his work can be found on his website. The above 'Apsara Dancing' painting in acrylics is a fine example of his style, movement and colour.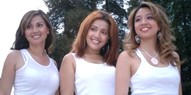 Yesterday I highlighted the all-girl group Universal Speakers from Long Beach, California. Today its the turn of the
Khmer Angels
, another trio of Long Beach residents, namely Lisa, Somalis and Rei, who are extremely popular with the large Khmer and Asian population in California. They originally got together six years ago, after finding their feet in karaoke videos locally. They combine pop songs in English with traditional Khmer tunes and are set to release a new CD very soon. Check them out at their
website
.