I've been a bit slow on updating my blog about some of the forthcoming gigs from my favourite musicians, so its catch-up time: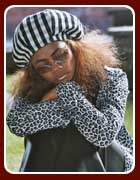 Yaz Alexander has a few dates coming up, including this afternoon at the African Heritage Day of Celebration in Birmingham city centre. Also playing will be Gabbidon, led by Basil and featuring Leonie Smith. Regrettably, I can't make the event as its FA Cup day today and I'll be watching Kidderminster Harriers against Droylsden! If I could split myself in half, I would. Yaz (pictured) has a busy schedule ahead of her over the next couple of months and these include appearances at the Music Live event at the NEC on 4 & 5 November, supporting Sylvia Tella and Marcia Griffiths who are at The Drum in Birmingham on Friday 10 November and the Gotham Records Christmas Party in 4 December.

Meanwhile, Gabbidon will make a second appearance at the Jam House in Birmingham on Wednesday, 29 November (9pm) with Yaz guesting on a couple of songs. Jean Mclean, the original Reggaebaby, will be fronting the band Memphis on Sunday 19 November at the Ipanema Bar in Broad Street, Birmingham (7.30pm), singing tracks from her album I'm A Reggaaebaby and paying tribute to artists like Dennis Brown and Bob Marley.

Taking a break from reggae, the legendary Ennio Morricone will be performing at Hammersmith Apollo on Friday 1 December, in the concert re-arranged from the Summer. It'll be only the maestro's third ever appearance in the UK and I'll be there, come hell or high-water. To round off the year in fantastic style, the annual Cry No More christmas party has now been booked for Saturday 23 December (doors 8pm) at the Turks Head, Winchester Road, St Margarets, Twickenham. Roy Hill is now fully recovered from his malaise and will be joined by his deadpan partner Chas Cronk for a night full of merriment and top class entertainment. It'll be a scorcher. You can read about previous christmas parties here.