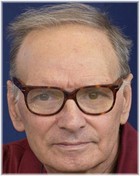 The Maestro has done it again - in only his third visit to these shores to perform on stage with his very own backing band, well actually the Rome Sinfonietta Orchestra, he had the 3,000 Hammersmith Apollo punters on their feet time and again, demanding more of his baton-whirling as he brought to life some of his best-loved film scores from a seemingly endless career in producing memorable music. At 78, Ennio Morricone won't go on forever, so each of his appearances should be savoured and enjoyed as if they're his last, and Friday night at The Apollo - one of two concerts in the Don't Look Back series - was another sublime offering. I've now seen The Maestro in action on all three of his visits to London - the previous concerts were at The Barbican and Royal Albert Hall - and I wouldn't have missed them for all the tea in China.

Without the services of the sensational Dulce Pontes for this trip, Morricone revamped his normal play-list to include at least half a dozen pieces I've not heard played live before, starting with Novecento. For me, Pontes is an integral part of the Morricone performance, she adds another dimension, but her absence meant a different approach from the Maestro and increased the workload for both the Sinfonietta and the Crouch End Festival Chorus, both of whom stepped up to the mark. And of course, as ever, soprano Susanna Rigacci weaved her magic during the Sergio Leone section, whilst Guilda Butta did likewise on the piano. Other outstanding individual performances were given by Marco Serino on violin, Monica Berni's flute and Carlo Romano on oboe. Morricone feels comfortable with this orchestra and they feel comfortable with him, and it shows, with both at the absolute pinnacle of their game.

A nice surprise was the opening cue from one of tv's most popular entertainers, Jonathan Ross, who was effervescent in his introduction of the Maestro and had a front row seat for the two-hour performance. However, it was the adoration from the audience that prompted Morricone to leave the stage and then return for three encores, stiffly and coyly accepting the plaudits and appreciation from both the house and orchestra alike, but suggesting its the music that is the centrepiece, not the man himself. I must also mention Andrew & Andrea Allen from North Yorkshire who sat next to me - Andrew has been a devotee of Morricone since 1968 and was overjoyed to be seeing the Maestro in action for the first time. Both he and I went home very happy and contented people. You can read more about my Morricone experiences here.